Student Career Center
Caring support provided in search of potential after graduation,
by dedicated staff members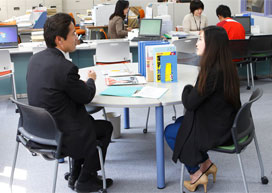 Student Career Center
This is The Career Center established as a place for career and employment assistance in order to ensure a thorough support system. Our dedicated staff will provide advice and guidance on how to get a job offer. During the 3rd year there are individual interviews for every student, resume revisions and mock interviews. At the same time, we are focusing on searching for employment opportunities, such as conducting corporate visits from large corporations to local small and medium companies.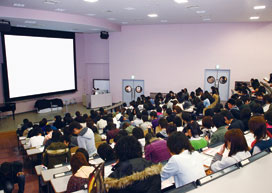 Career Support Program
Career-related lectures and internships that qualify as academic credit earning courses, as well as extra programs (extra-curricular programs) such as the Qualification Acquisition Strategies Program and Educational Programs, are provided by each department in every faculty, in addition to regular classes for the program of study. Systematic career improvement programs related to majors and programs of study are also available.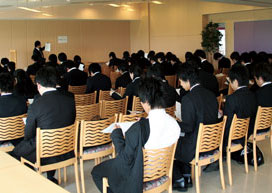 Company Introductions on Campus
Persons in charge of recruiting are invited from the businesses of respective industries (media, logistics, manufacturer, information and technology, apparels, and the like) to provide briefing on the environment that surrounds the industry and business categories, as well as the types of personnel they seek and their recruiting methods for all faculties.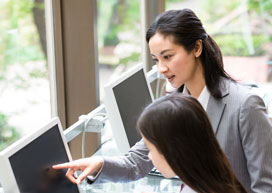 Internships
Students in their second or third year are eligible under the program. They are first given preliminary training and then given an opportunity to gain practical training for two weeks to a month during summer vacation.
Employment Activities