Student Career Center
Caring support provided in search of potential after graduation,
by dedicated staff members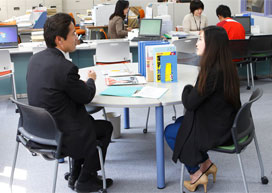 Student Career Center
This is The Career Center established as a place for career and employment assistance in order to ensure a thorough support system. Our dedicated staff will provide advice and guidance on how to get a job offer. During the 3rd year there are individual interviews for every student, resume revisions and mock interviews. At the same time, we are focusing on searching for employment opportunities, such as conducting corporate visits from large corporations to local small and medium companies.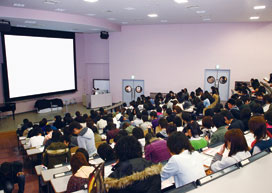 Employment Support Seminars/Courses
Primarily for students in the third year, we provide various seminars designed to equip students with the knowledge needed to find a job in Japan, including industry research seminars, self-analysis seminars, application document preparation seminars, written examination skills seminars, and group discussions. We also provide several industry courses focusing on areas such as music, sports, game design, and video/sound.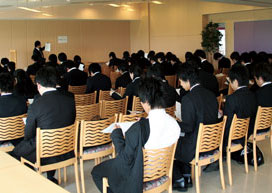 Company Introductions on Campus
We invite recruiting personnel from companies to teach students in person about working conditions in various industries and sectors, the kinds of graduates sought, and hiring methods. We arrange opportunities for students to talk directly with recruiting personnel from companies. Some students have received preliminary job offers as a result of participating in these briefings.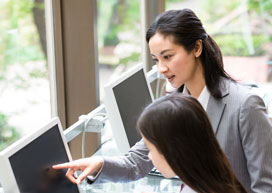 Internships
Students in their second or third year are eligible under the program. They are first given preliminary training and then given an opportunity to gain practical training for two weeks to a month during summer vacation.
Employment Activities
Year 3
June

Register on recruitment website
August

Participate in internship
October
~
December

Research on occupation

and industry categorires

Self-analysis

Prepare application documents

Written test strategies

Employment support seminars/courses
Year 4
February
~
August

Attend company briefings

Submission of resumes and entry sheets

Oral examinations (2 to 3 times)/written examinations
October

Preliminary job offers
December

Additional rounds of recruitment